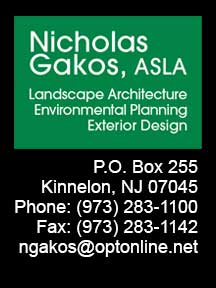 A Landscape Architect with 35 years of professional experience, Mr. Gakos provides personal attention towards the completion of each project. Always original, completed designs combine the program goals and objectives of the owner with existing site character resulting in seamless exterior project compositions. Through the use of professional design and planning techniques in the discipline of Landscape Architecture, sketches, plans, details and specifications are produced to the extent required to complete a thorough presentation of the project solution to the owner and to contractors for estimation of proposed work. The design package is then used to develop a comprehensive implementation service program to quality control, coordinate and guide field operations to maximize project potential.
A graduate of Rutgers University, 1978, Mr. Gakos received a B.S. accredited degree in Landscape Architecture and Environmental Planning. Prior to establishing his practice, Mr. Gakos completed his apprenticeship working with architecture, engineering, planning and landscape architecture firms both in New York and New Jersey as well as holding positions as Resident Landscape Architect with The Port Authority of New York and New Jersey and The New York City Department of Parks and Recreation ("DPR") administering New York City projects.
Additional experience included site supervision positions as an employee of private contracting companies, personally directing site construction projects throughout the boroughs of New York City for The New York City Housing Authority, the New York City DPR and Battery Park City ("BPC"). Project experience includes the acclaimed South Cove portion of the BPC Hudson River Promenade and various theme parks including Fountain of Youth Park from the NYC DPR special project division.
Throughout his years of practice, Nicholas Gakos, ASLA has been recognized by his professional colleagues, receiving multiple awards for residential garden design excellence. Nick's practice continues to be recognized for outstanding professional service by The American Society of Landscape Architects.
As a compliment to his professional practice, Mr. Gakos has been involved as a visiting professional instructor and lecturer for the accredited Landscape Architecture program at Rutgers University and as an instructor for the Morris County Vocational Technical Adult School Program for Landscape and Garden Design. The work of Mr. Gakos has been included and continues to be requested by designer showcase programs and trade shows throughout the metropolitan area.
Mr. Gakos is a member of the American Society of Landscape Architects and is licensed for professional practice by the New Jersey State Board of Architects and Landscape Architects, license no. AS00030.
---
©2016 Nicholas Gakos, ASLA